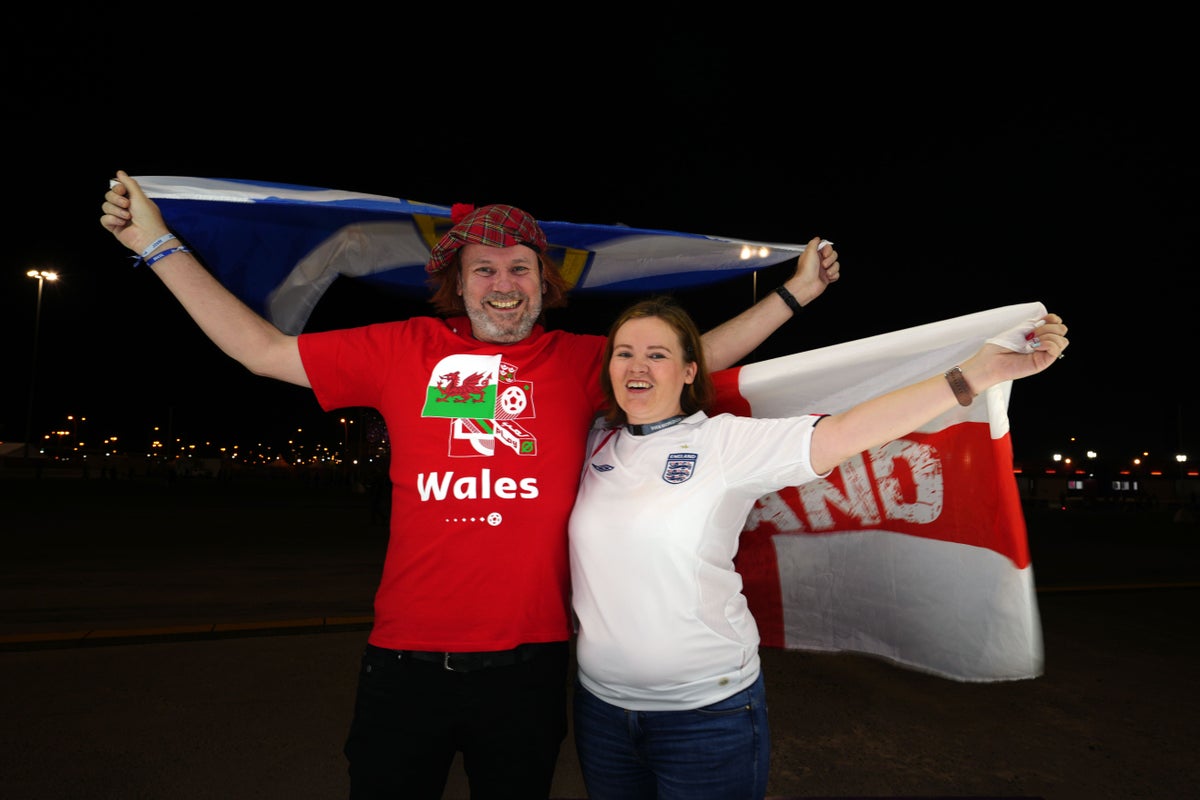 1669746960
Jordan Henderson vows England will do talking on the pitch against Wales
Jordan Henderson insists England will do their talking on the pitch rather than get into a war of words with Wales.
Speaking ahead of the tournament, Wales striker Kieffer Moore said he "couldn't wait" to knock out England. The Torquay-born Bournemouth forward added it "would be amazing" to eliminate Gareth Southgate's side in Qatar.
Michael Jones29 November 2022 18:36
1669746720
Can Wales shock England tonight?
England have won each of their last six games against Wales, scoring 11 goals in that run and conceding only one, a Gareth Bale free-kick at Euro 2016.
Wales' last victory dates back to May 1984, courtesy of a Mark Hughes goal (1-0).
Michael Jones29 November 2022 18:32
1669746526
Gareth Southgate reveals fears over expectations for Phil Foden at World Cup
The Manchester City midfielder has played just 19 minutes of football in Qatar across England's opening two games.
He came off the bench in the opening 6-2 thrashing of Iran but was an unused substitute in Friday's goalless stalemate with the USA.
There was widespread clamour for Foden to be introduced and Southgate was criticised for not utilising the 22-year-old as his side struggled to create chances at the Al Bayt Stadium.
Michael Jones29 November 2022 18:28
1669746286
Pre-match thoughts from Gareth Southgate
Gareth Southgate spoke to BBC One before kick and explained why he changed his starting line-up tonight saying:
"We think [Phil Foden and Marcus Rashford] can cause Wales problems and it's some freshness for the side. They have both trained really well.
"He's [Kyle Walker] ready to start now and I think it's good to get him in the team and for him to get some football behind him will also be helpful.
"We haven't talked much about it being a local derby. There has been a lot of noise around us. We have to concentrate on our football and our work rate has to be higher than our opponent's."
Michael Jones29 November 2022 18:24
1669746228
England fan 'strip searched' for wearing rainbow t-shirt at Qatar World Cup match
An England supporter at the World Cup says he was forced to "strip naked" and searched by stadium security for wearing a t-shirt with rainbow colours in Qatar.
England fan Anthony Johnson told the i newspaper that he was made to take off all his clothes, including his underwear, in front of a security official and was detained for 10 minutes.
Mr Johnson said he was stopped when attempting to enter the Al Bayt Stadium ahead of the match between the Netherlands and Qatar. He wearing a black sweatshirt and black baseball cap that featured the England football team crest in rainbow colours.
Michael Jones29 November 2022 18:23
1669745928
Optimistic England and Wales fans gear up for crunch 'Battle of Britain' match
Optimistic England and Wales fans have started gearing up for their crunch World Cup group match in Qatar – which has been dubbed the "Battle of Britain".
The two home nations meet at the Ahmad Bin Ali Stadium for their final group B fixture on Tuesday, with hoards of supporters having made the trip and millions more watching back home.
At an investiture ceremony, the King told former Sunderland star Gary Bennett he "just wanted a good game of football" when asked who he would be supporting.
Downing Street said Rishi Sunak would be supporting England, but hoped both teams could advance "as far as possible" in the competition.
Michael Jones29 November 2022 18:18
1669745748
For England, tonight is about so much more than Wales
It is a rare touch of mischief from Gareth Southgate, that also hints at some edge. The England manager is asked how conscious he is of Wales's attitude to England, and the videos of, say, the squad celebrating the elimination to Iceland in Euro 2016. It does seem like easy motivation.
"I couldn't say," Southgate smiles. "We are aware of some of that but I couldn't say if we would use it or not…"
Michael Jones29 November 2022 18:15
1669745448
Wales vs England
All four teams in Group B could potentially make it into the knockout rounds tonight. Wales know they must beat England whilst the Three Lions have to avoid a four-goal loss.
If Iran defeat the USA they'll be through with the likelihood being that whoever wins that game will go through alongside England. If Wales do collect three points tonight then they need Iran vs USA to finish in a draw.
If England get a win tonight they'll knock Wales out of the World Cup.
Michael Jones29 November 2022 18:10
1669745208
Do England need to win tonight to qualify for World Cup last 16?
A draw with the USA puts Gareth Southgate's side on four points after two games, with the 6-2 thrashing of Iran also boosting their goal difference.
Wales await in the final group stage match, with England in prime position to reach the knockout stages of the tournament.
Top spot is also valuable, knowing they will avoid the winners of Group A – Netherlands – should they hold on, with Iran just a point behind on three points, USA on two and Wales bottom on one.
Here are the permutations for England to advance to the last 16 and also secure top spot:
Michael Jones29 November 2022 18:06
1669744908
England fans banned from Cardiff pub for Wales World Cup clash
England fans have been banned from watching the crunch World Cup 2022 clash between England and Wales in a Cardiff pub that believes they would disrupt the "safe and friendly atmosphere."
It's the first time England vs Wales has been played at a World Cup and both sides are still able to qualify for the last 16, although Wales's task is considerably tougher as they not only need to win against a side they haven't beaten since 1984 but likely also require the USA vs Iran match being played concurrently to end as a draw.
Given everything at stake, O'Neill's pub in central Cardiff – on the corner of St Mary Street and Wood Street – have decided to ban England supporters from watching the 7pm kick-off on Tuesday evening, making it a Wales-only zone.
Michael Jones29 November 2022 18:01
Thanks
#Wales #England #LIVE #World #Cup #scores #updates #lineups #confirmed